In this article, we will talk about the most common displays you find in retail settings – such as floor displays, power wings, dump bins, and counter displays – and how they can help you get your customers' attention in a busy market.
1. Floor Displays
Freestanding floor displays are a popular display type that is great for promoting products in a highly visible way. You'll find them in a variety of retail environments, from big box stores, grocery stores, and even small boutique shops. They're positioned at many different locations and can be custom designed for 2, 3 or 4-sided shopability.
Mulit-functional or convertible floor displays are cardboard display structures that come with a base. The display sits on the assembled base, which then sits on the floor and when lifted off the base, can hang from the end of a shelf like a power wing. This offers great flexibility for both the retailer and supplier. The top or header is used to communicate the products, brands, and features of the products within. Custom floor displays are very common in most types of retail environments.
Another term often used to further describe a floor display, is a shelf display. Shelf displays are a type of POP display that gets its name from the way in which products are secured inside: on shelves as opposed to a pegging system.  There are many different terms used to describe POP corrugated display structures.  Product companies of all types include POP display programs.  Each retailer or retail chain has their own, specifications and requirements for the various POP display programs they bring into their stores.  Floor displays are often used in grocery stores, allowing product suppliers the ability to showcase products off the shelf.
A quality display and packaging manufacturer will have the knowledge and experience to custom design the perfect POP displays for all types of products including food, beverage, health and beauty, pet supplies, and so many more.
2. Counter Displays
Counter displays get their name from where they're placed: on the counter near the cash register. They're used for impulse sales or incremental sales of a stocked product and catch the attention of consumers at the point of sale.
Counter displays typically fall into the PDQ display category. PDQ, or  'Pretty Darn Quick' is synonymous with the term 'retail-ready' and requires minimal handling by the retailer. Using counter displays at the point of sale gives you the opportunity to land sales right up until the moment shoppers are paying for their purchase.
They are commonly found in drug stores and convenience stores where floor space is limited.
2. Power Wings
Also known as "sidekicks," these are flexible displays that are attached to
existing shelving or fixture infrastructure. They hang from a shelf in an aisle, at the end of an aisle and typically at eye level.
Power wings are a great way to merchandise products, as they catch shoppers' eyes and promote impulse purchases.  Power wings or sidekicks have minimal depth in order to stay within each retailer's specifications and hold a limited amount of product.  When shipped to stores assembled and filled with product, they are retail-ready, so in-store handling is kept to a minimum.
Shipper displays is another term to mean just this – POP displays that are pre-assembled and fully packed with product and properly shrouded.  Shipper displays may include additional protective components.  They will ship and arrive at stores retail-ready.  Store personnel just needs to place in the pre-designated location, cut open the protective shroud.
Power wings POP displays are often found in a variety of retail setting from grocery stores, to drug stores, convenience chains and more.
4. Dump Bins
Dump bins present products in bulk and are placed in a variety of locations based on the retailer's regulations. Product with minimal or no primary packaging is placed in the bin and sold.  They are often used to "move" excess inventory or bargain items. They are great attention grabbers and are the ideal height to prompt consumers to take advantage of a deal.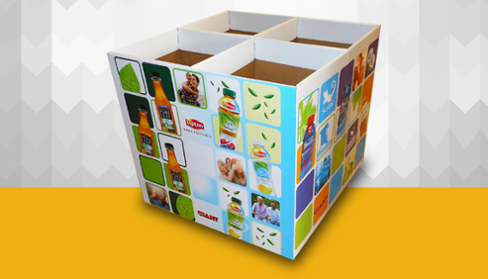 These POP displays can include adjustable interior bases or shelves to make sure consumers can see the products inside.  You can also create sections using dividers to better categorize the items on sale.   Dump bins offer a large, open canvas for branding, imagery and messaging on all four sides.  Headers can be included for the most impactful graphics to sell products within.
Dump bins are commonly used in big-box stores, specialty retailers, grocery stores and others to promote sale items and move inventory.
2. Pallet Displays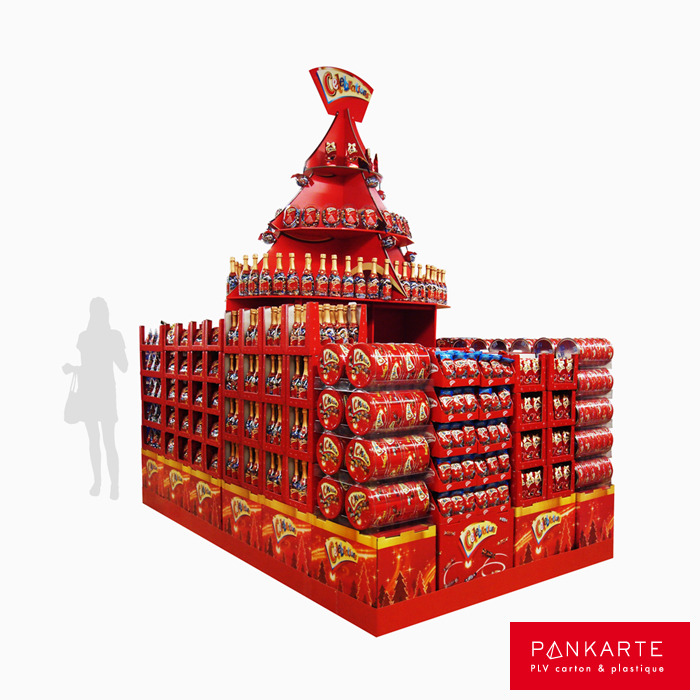 Grocery stores and club stores often utilize pallet displays on the retail floor.  This POP display is built to sell a lot of merchandise. They can be designed to showcase multiple products and packaging sizes or to focus on one primary offering.
Depending on the needs of the manufacturer and retailer, pallet displays come in full, half and quarter pallet size configurations. They can be delivered fully assembled with the merchandise included for a complete retail-ready shipper display.  Pallet displays work best when consumers can shop all 4 sides. (5 if you count the top); however, pallet displays with 3 shoppable sides is often the minimum.
Pallet displays exist in different forms.  One format is when product sits in corrugated stackable trays, which are stacked onto a pallet and form a pallet pattern that is pre-approved by the retailer.  Stackable tray pallet displays provide product stability for large quantities and are printed to highlight the product and brand. This format is very common in club stores.
Pallet displays where product starts a number of feet off the pallet floor will use a pallet
skirt. Pallet skirts wrap around the bottom of a pallet display and act as an in-store billboard and can greatly increase the impact and sell-through of your product.
Retailers such as grocery stores and club stores accommodate pallet displays.
https://lddisplay.com/wp-content/uploads/2018/02/blog02.jpg
248
360
Jason
https://lddisplay.com/wp-content/uploads/2018/01/logo-3-1.png
Jason
2018-02-01 06:29:40
2018-02-01 08:20:53
There are many types of POP displays, each with inherent features and benefits