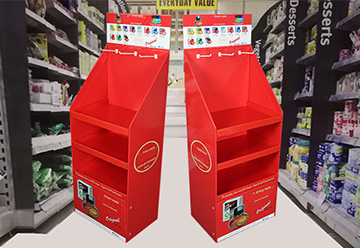 Product advantages of custom cardboard counter displays: cardboard counter display boxes and paper shelves are flat-layer cargo platforms, which can carry heavy goods and are extremely stable in structure. It can be used in food paper shelves, toy display shelves, gift paper shelves, cosmetic paper shelves, etc., and can be used in all walks of life. Detachable and foldable, it is suitable to be placed and easy to move.
Custom cardboard counter displays Material: computer output, laser knife production template; 450g coated gray card conforming to ROSH and RECAH standards, 5-layer reinforced core high-strength corrugated cardboard; 10mm thickness support board can be used to strengthen the load-bearing part (optional). It can also be used in combination with other materials such as stainless steel cardboard counter display boxes, plastics, etc.
Custom cardboard counter displays size: This sample is based on the original product size, customers can customize according to the drawings, or adjust the design according to customer drawings or requirements, and tailor the cardboard counter display boxes.
Cardboard counter display boxes are introduced in detail: ·Professional designers carry out structural and graphic design, analyze the structure of the display rack, combine the selling points of the customer's products, and fully demonstrate each process and material.
With more than ten years of experience in display rack production and processing, we have designed and developed a variety of specifications and models: store multi-function display type, selling point display type, luxury display type, wonderful selling point type and the latest research and development of the Symphony Dynamic Generation. ·Strictly review the raw material suppliers quarterly and carry out large-scale procurement to ensure that the quality of raw materials and environmental protection meet the latest standards and effectively reduce material costs.
lddisplay Display Stand Co., Ltd. has the right to import and export, and its own fleet and cooperative full-time logistics company guarantee the safe delivery of customized cardboard counter display boxes to customers.
We are a professional manufacturer specializing in designing and creating cardboard POP displays. If you have any questions, you want to consult or purchase needs, you can contact us
https://lddisplay.com/wp-content/uploads/2019/02/floor-food-display-rack.jpg
248
360
Jason
https://lddisplay.com/wp-content/uploads/2018/01/logo-3-1.png
Jason
2021-10-26 02:49:55
2021-10-26 02:49:55
Application cases of custom cardboard counter displays in various industries